MNAM-CCI CENTRE POMPIDOU
---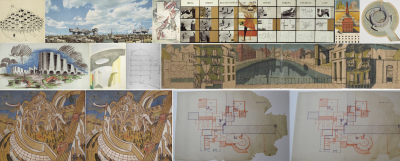 CONSULTING AND EXPERTISE IN CONSERVATION AND PREVENTIVE CONSERVATION (1995-2011)
Storage and conservation policy for the collection of architecture drawings and restauration of more than 800 drawings.

CONSERVATION TREATMENT OF 203 DRAWINGS BY CARLO AYMONINO (2009-2011)
Conservation treatment of 203 drawings by Carlo Aymonino, most of which realised with felt-tip pen on tracing paper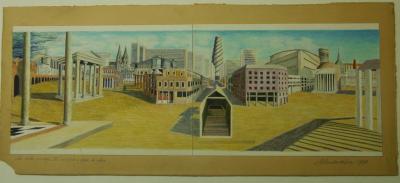 CONSERVATION TRETAMENTS ON 75 ARCHITECTURE DRAWINGS (2006-2008)
Virgilio Marchi (1 drawing), Pol Abraham (69 drawings), Arduino Cantafora (5 drawings)
RESTORATION OF 93 ARTWORKS ON PAPER (2003-2005)
Huang Yong Ping (1 backlit box), Dominikus Böhm (6), Jean Nouvel (12), Renzo Piano (16), Paul Nelson (26), Rem Koolhaas (15), Jean Prouvé (9), Pierre Chareau (8)

RESTORATION OF 187 DRAWINGS (2000-2002)
Restoration of 187 drawings including:
Robert Mallet-Stevens (4), Jean Balladur (15), Edouard Menkes (7), Superstudio (21), Adalberto Libera (54), Richard Buckminster Fuller (2), Christian de Portzamparc (7), Alison et Peter Smithson (7), Massimiliano Fuksas (15), Aldo Rossi (4), Ignazio Gardella (9 dessins), Yona Friedman (6), Archigram (6), Oscar Nitzchké (11), Tadao Ando (2), Jean Renaudie (17)

STORAGE POLICY AND RESTORATION OF 255 DESSINS (1995 - 1999)
1995 marks the beginning of my collaboration with the Centre Georges Pompidou. the actions of these first years, which were subsequently adopted in the coming years, were aimed at the implementation of simple treatment protocols and minimal intervention as well as the introduction of a storage and mounting policy.